Download a free digital magazine from Flipster. Learn a new language with Mango. Practice for your G1 driver's license. Find a new eBook to read on Libby. All these resources are free from your public library.
*Please use your library card number (no spaces) to login when asked for a Patron ID*
Bibliovideo
The Canadian Children's Book Centre (CCBC) is taking Canadian children's books to where youth already are: YouTube. Bibliovideo is the destination for young readers, librarians, teachers, parents, authors, illustrators, researchers and others who want to locate and learn more about great Canadian books for young people. Find videos of book readings, illustrator workshops, TD Summer Reading Club, Forest of Reading and all things kids' books. Check out the YouTube Bibliovideo channel here
Digital Archive Ontario
Libraries supplement their local history collections with our photos, maps, postcards and other items. Ontarians explore the history of their hometowns and beyond with unrestricted access to Toronto Public Library's Special Collections and expert blog posts. Teachers and students find primary sources relevant to local, provincial and national history by searching our collections or browsing featured subjects. Click here to enter the Digital Archive.
Early Canadiana Online
This virtual library holds the most complete set of full-text historical content about Canada, including books, magazines and government documents. Early Canadiana Online is used by scholars to advance our knowledge of Canada in a wide variety of fields, by educators to bring primary sources into the classroom, and by genealogists and history buffs to discover Canada's early days. We take painstaking efforts to capture the full span of Canada's documentary record, adding new content every year. This includes material published from the time of the first European settlers to the first half of the 20th century. Visit the database here.
Family Literacy First
Family Literacy First is a free program created by ABC Life Literacy Canada to bring parents and children together to practice family literacy. Thanks to HSBC Bank of Canada for their generous support of this program. Modules are available in English, French, Simplified Chinese, Tagalog and Arabic. Currently families must register for access prior to accessing the modules. Register for free access here. Login to access Family Literacy First.
Flipster Digital Magazines
Flipster is an easy-to-use digital magazine newsstand for libraries. Your Public Library provides access to 10 popular magazines: Allrecipes Magazine, Baking Heaven, Better Homes & Gardens, Canada's History, Fine Gardening, InStyle, People, Popular Mecahnics, Real Simple and Tornto Life. Patrons can download the Flipster app to access magazines. Remember to scroll down to 'Patron ID' and use your Library card number, no spaces, to login. Find a magazine to read here.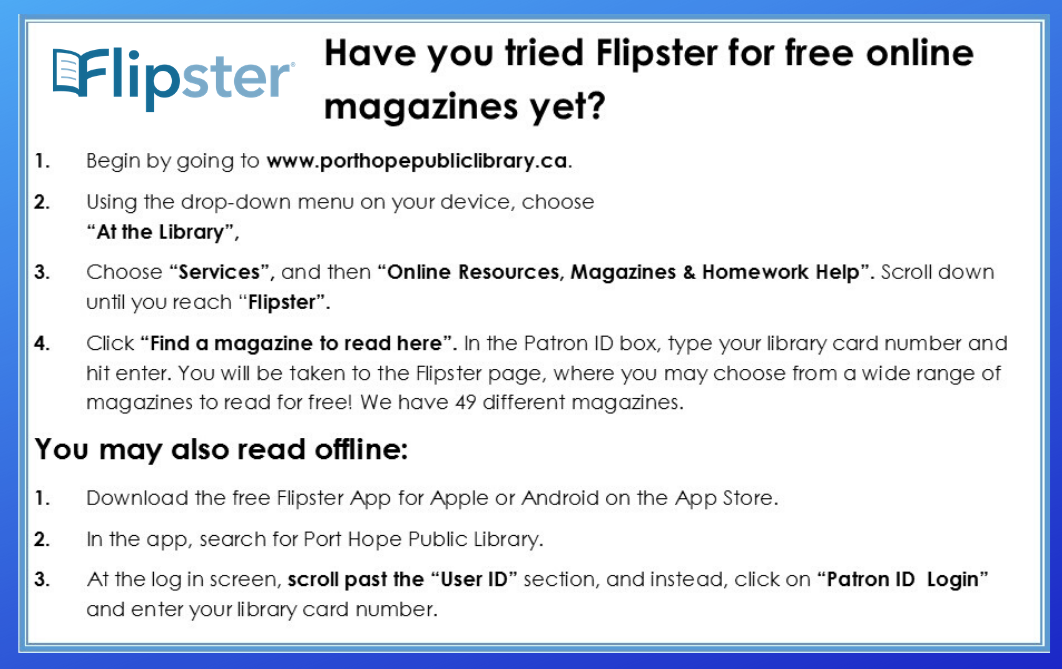 G1 Practice Tests
This site provides G1 practice tests for anyone preparing for the written portion of the G1 driving exam. Please note: This is not an official G1 test website. Please visit the Ministry of Transportation website for more information about licenses and driving tests. Visit G1 Practice site.
Mango Languages
Mango makes learning a new language fast and easy! Choose from a wide variety of languages and learn everything from basic words and phrases to practical conversation for everyday situations. Learn a new language at your own pace with Mango's fun interactive lessons. Visit Mango Languages.

LIBBY Ontario Libraries Download Centre - Free audio & eBook downloads and 3000 digital magazines
This service provides downloadable eBooks, Audiobooks and over 3,000 digital magazines for use on your computer, e-reader, tablet or mobile device. Watch videos on: how to use the LIBBY app and OverDrive Magazines.
Sign in with your library card to get started. Sign-in here.
Please note January 2022: Over the next several months the original OverDrive app is being decommissioned and patrons will be asked to use the Libby app. Watch for more details.
Our Ontario
Find over 1.8 million items and collections from Ontario libraries, archives, museums, historical societies, community groups, and government ministries. Visit Our Ontario.
Ancestry Library Edition
An essential genealogical tool with thousands of databases and billions of names. Search for records covering the census, vitals, immigration, military service and more. International coverage, including Canada. Access is available in the Library only on our public Internet workstations.