Friends of Port Hope Public Library
Port Hope Public Library Board invites the community to be part of a Friends of the Library group. The group has an executive and meets monthly - everyone is welcome. Meeting dates can be found on the Events Calendar or please ask Library staff. Come out to learn all about how Friends support libraries through advocacy, building awareness, fundraising, volunteering and program support. For more information about the Friends or to express an interest in joining our Friends fill in this form and email it to Margaret Scott, CEO.
Friends of the Library Fundraising Trunk Sale!
Saturday, September 23, 9 AM - 1 PM @ Mary J Benson Branch Parking Lot, Queen Street
Book your parking spot/table to sell your items in a special sale, rain or shine! Sellers keep their proceeds. Spots are $20 cash, first-come first-serve. Register in person by September 9 at the MJB Branch. Proceeds will help with library needs.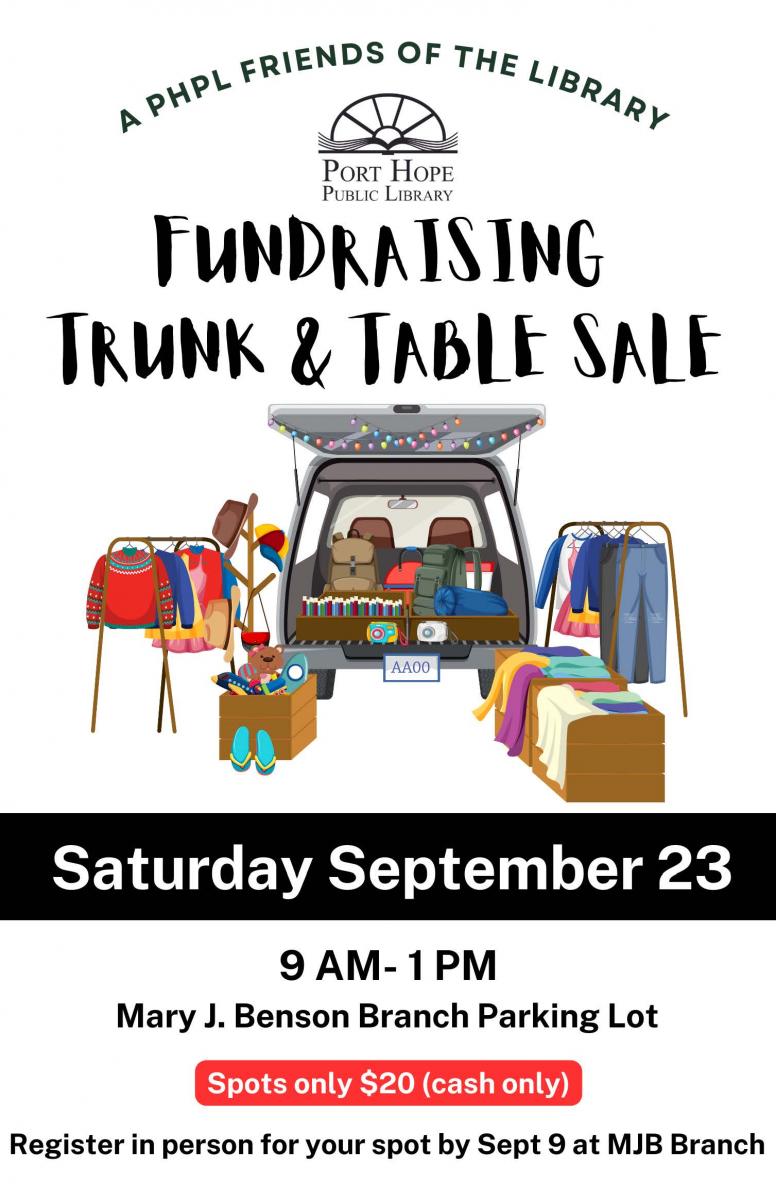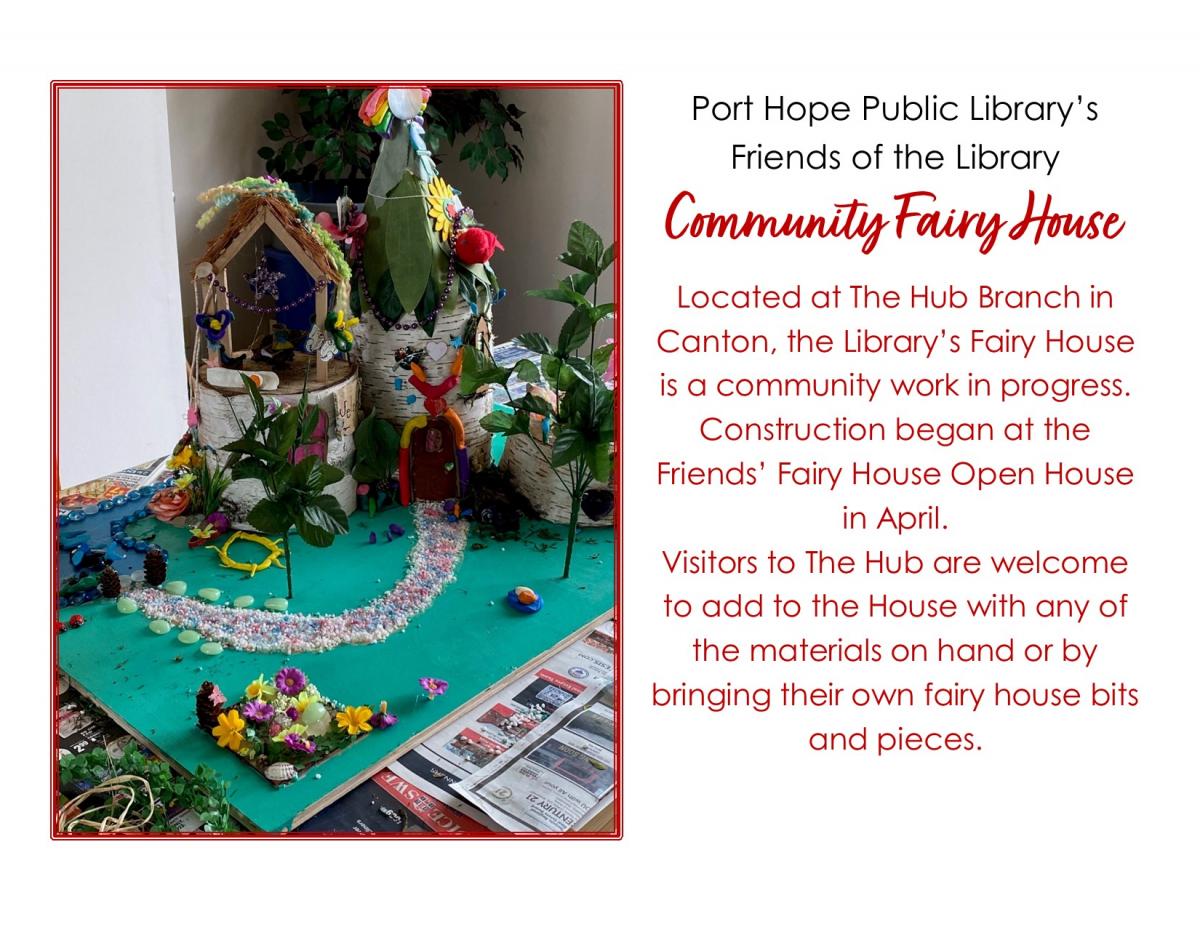 Friends of the Library Information
Friends of the Library Annual General Meeting Notes
Friends of the Library Annual General Meeting, Mary J. Benson Branch, 31 Queen Street Port Hope April 28, 2022 7 pm
There were eleven people in attendance including the Friends Executive and library staff.
Welcome
Bruce Bowden, Chair of Friends of the Library welcomed the group and provided a land acknowledgement.
Report from Library CEO
Margaret Scott, CEO gave an overview of library operations from spring 2021 to date. Copies of the 2021 annual report were distributed. Highlights included the following:
Partnership with Furby House Books that helps build library collections and increases book sales (Individuals who purchase items from the library wish list receive a 15% discount on all purchases at that time. Library provides a charitable receipt for any library purchases over $25)
Library received a grant for a collection of children's dyslexia materials
Library staff's application for funding through Community Foundations of Canada was successful. A total of $33,000 will be used to improve access and opportunities to support the physical and mental health of citizens through the use of outdoor spaces and by increasing access to indoor space and resources.
The library went fine free for children and adults in December.
Launch of a new computer system including a new catalogue Bibliocommons in early January (2022)
Successful summer community survey
Giant book sale supported by Friends and volunteers at the Hub Branch generated approximately $2000
She expressed sincere thanks and appreciation to the Friends of the Library who provided support by way of welcoming visitors, checking cards/ID, counting people and helping to enforce COVID rules and library policy throughout the many re-openings of the library during the past 2 years.
Report from Friends Chairperson
Bruce Bowden acknowledged the contributions of the current executive members Christine Withrow, Derek Elion, Stephanie MacKenzie and Lyndsay Chapman. He also mentioned the involvement of past board members Liz Stewart, Kathy Dennis and Jennifer Keyes. The Executive met on the second Tuesday of most months via Zoom.
While projects may have been small the executive feels that the group has made some progress in terms of raising additional funds for Port Hope Public Library. There was recognition that the Friends are a community asset to our community library. Highlights of the year included the silent auction of a basket of garden items donated by local businesses and some individuals. A tour of gardens under the care of two master gardeners was enjoyed by those who wore masks and maintained appropriate physical distancing while enjoying the spring weather outdoors. In addition to the these events there was a very successful three day jewelry sale in March and then an accessory sale and auction of a reconditioned fur coat designed and donated by Carolyn Lowrey.
During a presentation at a board meeting early in the year Bruce and Christine acknowledged that Friends is becoming a visible presence through the mounting of these types of events at the library. Much can be accomplished by teams working together. We just need more people to participate on the teams.
Treasurer's report
Derek Elion gave a verbal report of Friends of the Library finances. As of this date (April 28, 2022) the Friends of the Library bank account had a balance of $2405.17. He commented that the March jewelry sale proceeds were just under $1950. The other fundraisers mounted through the year including the garden tour, gardening raffle basket and the live edge table netted $810. Expenses during the year were minimal. There was a small expenditure for hot chocolate as part of a free winter skate event at the Jack Burger Sports Complex sponsored by the Municipality of Port Hope.
Selection of officers 2022
Chair – Bruce Bowden
Vice Chair – VACANT (needed for continuity and executive assignments)
Secretary – Bruce Bowden and Margaret Scott would share this role.
Fundraising Chair – Christine Withrow
Member-at-large – Stephanie Mackenzie
Port Hope Public Library Board Representative – Lyndsay Chapman
Plans for 2022
(brainstorming)
There was a discussion regarding membership. Should there be an annual fee or would no fee encourage people to join.
A question was asked about book delivery to retirement and nursing homes. In the past a volunteer who also was a regular patron would drop off books as selected and packed by library staff to several area facilities. This has been discontinued for now due to the retirement of the volunteer driver, the lack of oversight at each site and the loss of library materials. There may be other ways to support and offer service or programming at these facilities.
The Mary J. Benson Branch oversees a perpetual book sale near the main desk on the first floor. A typical year brings in about $2000 of additional revenue.
The Library Board will review its strategic goals and consider a possible fundraising framework that would include Friends of the Library.
Friends would like to engage someone from the community to help build a marketing strategy and an on-line presence. Port Hope Public Library staff are happy to provide continued support in these areas.
Meeting adjourned at 8:10 pm. Refreshments were served.