Port Hope Public Library is pleased to bring you a variety of online resources, eBooks, audio book downloads, digital magazines, movies, music, comics etc.
Please use your library card number (no spaces) to login when asked for a Patron ID
Bibliovideo
The Canadian Children's Book Centre (CCBC) is taking Canadian children's books to where youth already are: YouTube. Bibliovideo is the destination for young readers, librarians, teachers, parents, authors, illustrators, researchers and others who want to locate and learn more about great Canadian books for young people. Find videos of book readings, illustrator workshops, TD Summer Reading Club, Forest of Reading and all things kids' books. Check out the YouTube Bibliovideo channel here
CBC Corner
CBC Corner is a digital space, created especially for library customers, that brings together the wide variety of CBC and Radio-Canada content and resources in a single experience. This links to Canadian Broadcsting Corporation resources including archives, Gem, Kids, Listen and much more.
Canadian Encyclopedia
Since the first edition arrived in 1985, Canadians have held a claim few others can make: we have our own national encyclopedia. The Canadian Encyclopedia plays an essential role in providing Canadians and others with accurate, updated information about our people and country.
Canadian Points of View Reference Centre
Containing full text resources that present multiple sides of a current issue — including information on key topics of interest to Canadian researchers — this database helps students develop persuasive arguments and essays, better understand controversial issues and develop analytical thinking skills.
Consumer Health Complete
The most comprehensive database for consumer-oriented health content, Consumer Health Complete is designed to help users gain an overall understanding of key topics across the health and wellness spectrum — from mainstream medicine to complementary, holistic and integrated medicine. Available in both English and French. Consumer Health also provides access to a collection of reference eBooks. Remember to use your library card number as your Patron ID when accessing these sites.
** Consumer Health in English **Consumer Health in French **Consumer Health eBooks
Digital Archive Ontario
Libraries supplement their local history collections with our photos, maps, postcards and other items. Ontarians explore the history of their hometowns and beyond with unrestricted access to Toronto Public Library's Special Collections and expert blog posts. Teachers and students find primary sources relevant to local, provincial and national history by searching our collections or browsing featured subjects. Click here to enter the Digital Archive.
Early Canadiana Online
This virtual library holds the most complete set of full-text historical content about Canada, including books, magazines and government documents. Early Canadiana Online is used by scholars to advance our knowledge of Canada in a wide variety of fields, by educators to bring primary sources into the classroom, and by genealogists and history buffs to discover Canada's early days. We take painstaking efforts to capture the full span of Canada's documentary record, adding new content every year. This includes material published from the time of the first European settlers to the first half of the 20th century. Visit the database here.
eBooks Canadian Collection
This collection offers over 20,300+ ebooks from top Canadian publishers and authors covering a diverse range of subjects including topics pertaining to Canada, Canadian history, native culture, politics and current events. Explore the resources here using your library card number as your Patron ID.
Family Literacy First
Family Literacy First is a free program created by ABC Life Literacy Canada to bring parents and children together to practice family literacy. Thanks to HSBC Bank of Canada for their generous support of this program. Modules are available in English, French, Simplified Chinese, Tagalog and Arabic. Currently families must register for access prior to accessing the modules. Register for free access here. Login to access Family Literacy First.
Fiero Code
Fiero Code is a self-paced learn-to-code software for kids ages 8-18. Through hundreds of coding tutorials and dozens of real-world projects, this high impact educational e-resource prepares the youth in your library community for jobs and provides meaningful life skills such as critical thinking and problem solving. Try it out here using your library card number as your Patron ID.
Flipster Digital Magazines
Flipster is an easy-to-use digital magazine newsstand for libraries. Your Public Library provides access to 10 popular magazines: Allrecipes Magazine, Baking Heaven, Better Homes & Gardens, Canada's History, Fine Gardening, InStyle, People, Popular Mecahnics, Real Simple and Toronto Life. Patrons can download the Flipster app to access magazines. Remember to scroll down to 'Patron ID' and use your Library card number, no spaces, to login. Find a magazine to read here.
G1 Practice Tests
This site provides G1 practice tests for anyone preparing for the written portion of the G1 driving exam. Please note: This is not an official G1 test website. Please visit the Ministry of Transportation website for more information about licenses and driving tests. Visit G1 Practice site.
Trubicars G1 Course
The course helps people prepare for their G1 knowledge test. Please note: This is not an official G1 test website. The course is highly engaging and all the information is taken from the Ontario Ministry of Transportation Drivers Handbook. Visit Trubicars G1 site.
hoopla
Borrow and enjoy up to 10 audiobooks, eBooks, comics, movies, TV, magazines, or music downloads per month everywhere you have a screen-your computer, your phone, your car, even your TV. All you need is a library card. hoopla syncs across all your devices, so you can stream titles immediately or whenever you're in the mood. Most titles can also be downloaded to your phone or tablet. hoopla offers more content, in more places, than any other digital library platform and it's all FREE thanks to your public library! Download the app today or visit hoopla digital here.
Kanopy
Kanopy is a video streaming service for quality, thoughtful entertainment. Find movies, documentaries, foreign films, classic cinema, independent films and educational videos that inspire, enrich and entertain. This brings patrons an ad-free experience that can be enjoyed on your TV, mobile phone, tablets and online. Access Kanopy here or download the free app.
Transparent Language Online
Transparent Language Online provides a fun, effective, and engaging experience for learners of all levels looking to build their listening, speaking, reading, and writing skills in a foreign language. Combining robust courses, supplemental vocabulary, and grammar resources, Transparent Language Online is the most complete language-learning system. With over 110 languages to choose from, including English for speakers of over 30 languages, there is something for every learner. Best of all, with mobile apps for iOS and Android devices, learners can enjoy the freedom to learn at home, in the library, or on the go. Click here to start.

LIBBY - Free audio & eBook downloads and 3000 digital magazines
The Ontario Libraries Download Centre provides downloadable eBooks, Audiobooks and over 3,000 digital magazines for use on your computer, e-reader, tablet or mobile device. Download LIBBY wherever you get your free apps. Watch videos on: how to use the LIBBY app and OverDrive Magazines. Sign in with your library card to get started. Sign-in here.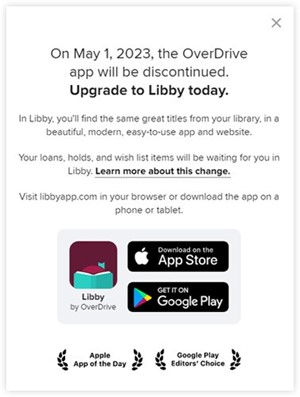 National Geographic Kids
Engage kids and young students to broaden their horizons with age-appropriate digital content that brings them amazing adventures in science, nature, wildlife, culture, geography, archaeology, and space. The collection includes the complete run of the magazine from the first issue in 2009 to the present, as well as books, videos and colorful photos, fun features, and weird and wacky facts. Start exploring here - please use your library card for access.
Novelist
NoveList is a database of book recommendations for library staff and patrons. Our expertise and passion for books and reading means we'll always be able to provide the best help to the readers in your community. Unique story elements: NoveList's unique story elements like appeal, genre, and theme make it easy for you and your readers to find the kinds of books they are interested in, using language that they understand. Read-alike recommendations: Our recommendations are crafted by experts, and we let you know who wrote a recommendation and why the recommendation makes sense. We offer recommendations for titles, authors, and series. Listen-alike recommendations for audiobooks: The same expertise NoveList librarians use to recommend print books is also applied to audiobooks, one of the fastest-growing types of reading. Remember to use your library card number as your Patron ID when accessing these sites.
Novelist for kids, tweens and teens
Our Digital World
OurDigitalWorld is a non-profit organization that supports digital stewardship of community cultural heritage. We collaborate with libraries, archives, museums, historical societies, and community groups to create sustainable digital collections and bring together for discovery the extraordinary stories that define and shape our communities. Includes Our Ontario.
TVO
TVO inspires learning that changes lives and enriches communities. We are passionate about creating learning that empowers you to connect with others and shape your future. As an agency of the Ontario Ministry of Education and a not-for-profit, social impact charity, TVO believes in the importance of equitable education. We seek to represent the voices of communities across the entire province.
Current affairs TVO Today Engaging learning for kids TVO Learn Ontario's online high school TVO ILC
Ancestry Library Edition
An essential genealogical tool with thousands of databases and billions of names. Search for records covering the census, vitals, immigration, military service and more. International coverage, including Canada. Access is available in the Library only on our public Internet workstations.