Ask us.
If you have questions, we'll find the answers.
One of the Library's goals is to help you find the information you need in the most efficient way possible. Whether your question is about fact or fiction, your neighbourhood or the global village, ancient history or current events, we'll help you find the answer using all the resources we have or we'll refer you to the person who does have the answer.
Begin your quest for knowledge by contacting the Library
Home Deliveries
If you are unable to come to us, we'll come to you.
The Library offers delivery services to nursing home residents and house-bound patrons.
Staff members choose books and/or audio books
Volunteers deliver and pick up the items
All deliveries are made on the last Tuesday of every month, year round
We will do our best to fill requests for particular titles, authors, subjects or genres
For further information or to register for this program please contact Lori Altman at 905.885.4712 or email.
Interlibrary Loans
The Library is part of the province-wide interlibrary loan system.
Your access to information extends far beyond the walls of our two Library branches. We offer patrons an interlibrary loan system that includes public and academic libraries, and provincial and national archives.
Suspension of Inter-library loan services until mid-June
The Interlibrary loan service will return to Port Hope Public Library mid-June. Items will now be circulated between libraries in southern Ontario using Canada Post which will result in direct increased costs affecting your public library's budget. These changes are a result of the 50% cut to the Ontario Library Service by the Provincial Government. From mid-June until September the Library will test and monitor this new borrowing & lending method. Final decisions about the future of the interlibrary loan service will be made later in the fall.
Your public library understands how important the interlibrary loan service is for many of our patrons. We hope to be able to continue to provide the service given the current situation. If you have any questions or concerns please contact CEO Margaret Scott.
Book Club Requests
The Library offers a title request service for local book clubs.
The Library is able to order multiple copies of books for book clubs that have registered for this service. For further information, please contact the Library at 905.885.4712 or email.
Centre for Equitable Library Access Collection (CELA)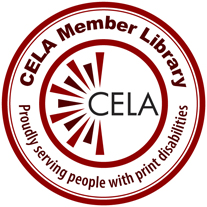 Port Hope Public Library offers access to a collection of over 230,000 books, magazines, newspapers and described videos in a choice of formats for people with a print disability.
Lots of choices including current bestsellers, award-winners, and classics
Fiction, non-fiction, self-help, business and more
Books for kids, teens, and adults
Books in audio, braille or accessible e-book formats
Download books or receive home delivery by mail
Eligibility
Access to the CELA collection is available to people who are unable to read conventional print due to a disability, which includes:
Learning disability: an impairment relating to comprehension
Physical disability: the inability to hold or manipulate a book
Visual disability: severe or total impairment of sight or the inability to focus or move one's eyes
How to sign up for CELA
Contact the Library to begin the registration process for access to CELA services. Access to the collection is offered in a number of ways:
Download books to your computer or mobile device, such as an iPhone
Download books to a DAISY player over a wireless connection without using a computer
Receive audio CDs, Braille or described movies through your local branch or by mail directly to your home
The CELA website can be found at: www.celalibrary.ca